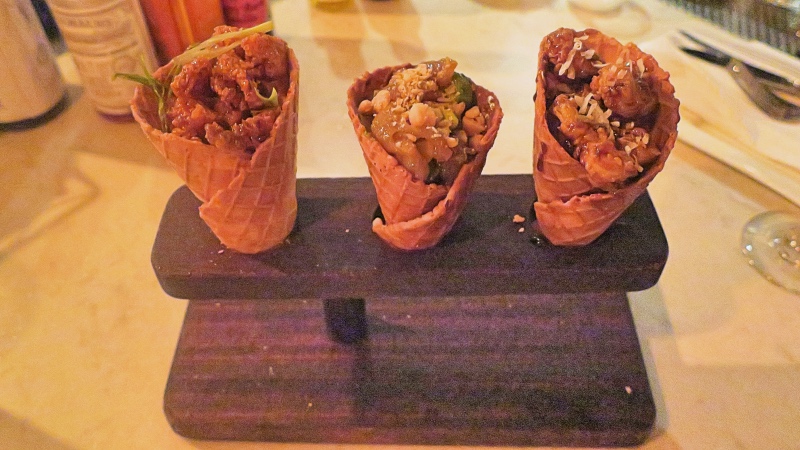 UNPRETENTIOUS REVIEW
2.5
Overall Rating
2
Service
2.5
Food
3.5
Vibe
The Basics
A speakeasy-inspired cocktail bar in a dimly-lit space beneath Duckworth's
In the Weeds
There's much more to a craft cocktail than stirring up ingredients. Part of the art is watching a mixologist at work from a bar stool, chatting about their recipes and favorite spirits while they shake and stir. Sitting at the bar at Duckworth's Cellar, however, is stressful.
Jon and I sat stopped by recently on a weeknight — admittedly, somewhat reluctantly, as we've never had the best experience here. We sat at the end of the bar, and it was about 15 minutes before we were able to place an order for drinks, and it felt like almost as much time before we got them.
This is The Cellar's biggest problem. The slowness isn't a matter of the bar staff taking their time or slacking off. With the dining room only half full, the two bartenders were slinging craft cocktails like they work at a volume bar. Tickets with drink orders pop in so fast that they hardly have a moment to attend to the folks sitting in front of them, let alone create that bartender-patron relationship that makes sitting at the bar so enjoyable. I can't imagine how fast they must move when the dining room is full.
When Duckworth's opened, it seemed caught between marketing itself as a craft cocktail bar or a place where you find rare beers. The city has been desperate for more cocktail bars, though, so when the concept tried to do both, the beers took a back seat. That's probably also because the cocktails are good, and the menu is big enough for all palates and written in a way that makes the drinks accessible. The restaurant is still serving those beers, of course, but who wants to order a beer in a speakeasy?
The speakeasy vibe clashes with the food in some ways, too. The menu lists flatbreads, burgers, lamb chops, and scallops, a mish-mosh of pub fare and fine dining. The basic dishes are good enough, but options like the waffle cones seem better on paper than in your hand.
The trio of waffle cones — yes, just like you'd get with ice cream — come stuffed one each with sriracha chicken, coconut shrimp, and tuna poke. The coconut shrimp is so aggressively sweet with an orange sauce that it leaves your mouth feeling fuzzy, while the chicken sriracha and bacon feels like you're eating chicken tenders from Duckworth's upstairs. The tuna is the best one, welcomingly bland after the other two. It's so dark in the dining room you can hardly see what you're eating, which makes me a little uncomfortable, but I'm pretty sure it had avocado in it.
The steamed pork buns, on the other hand, were cooked well with some heat from a kimchi aioli and a bite from pickled vegetables, sesame seeds on the bun adding extra texture. If you order right, you can have an enjoyable meal.
The draw of a speakeasy is partially the vibe, and Duckworth's Cellar has that down for a quality cocktail bar. The other piece is that guests don't have to worry about getting a good drink from a bartender who seems happy to welcome them. The staff is friendly, but rarely has the time to be. The Cellar struggles here, leaving guests feeling guilt for enjoying drinks while watching as staff is frantically trying to keep up. It's trying to be too many things — with too few bartenders.