January 28, 2021
Try eight of the city's best Moscow Mules at home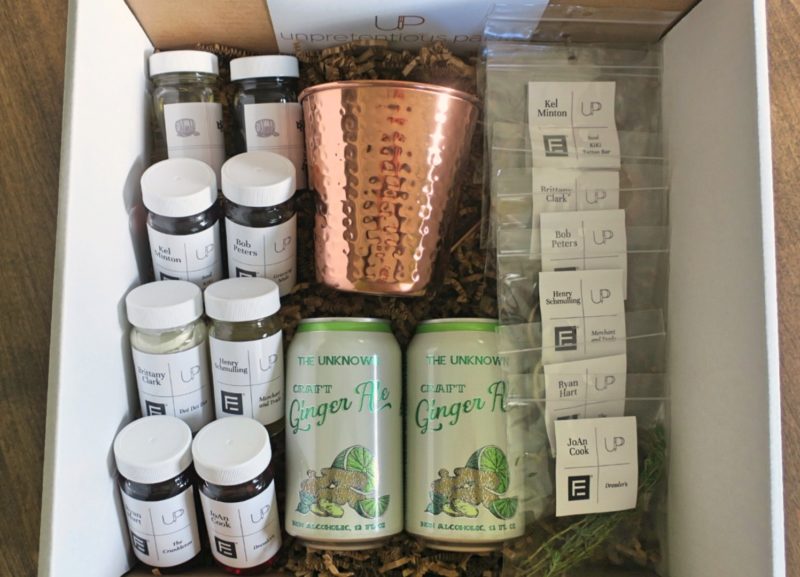 Eight of the city's best bartenders are bringing their Moscow Mule recipes to your home bar! Each Moscow Mule Sampler Kit includes syrup and garnishes from eight different bartenders, as well as two cans of The Unknown Brewing Co.'s ginger ale, limes, and a copper mug. Kits will be available for pickup on Feb. 7. Stir them up at your leisure, then vote for your favorite! We'll post a video revealing the fan favorite on Unpretentious Palate's Facebook page, and that bartender will demonstrate how to make their drink from scratch.
Pre-order your kit for $89.99. Each kit includes the simple syrup, garnishes, and instructions to make eight Moscow Mules, which serve two people each. Please note you may need additional limes as your make your way through the drinks.
Kits are sponsored by Effen Vodka (vodka not included due to ABC laws). Curbside pickup will take place between noon and 1 p.m. on Saturday, Feb. 6 or from noon to 2 p.m. on Sunday, Feb. 7 at Camp North End near Leah & Louise Restaurant.
A limited number of kits are available for purchase. Ingredients should be refrigerated. Bartenders providing cocktails:
The Crunkleton
Ryan Hart
Blackberry & Basil Mule
Dot Dot Dot
Britt Clark
Spiced Coconut Mule
Dressler's
JoAn Cook
Have an Awesome Thyme Mule
Fin & Fino
Brittany Kellum
Cucumber-Jalapeño Mule
Grinning Mule
Bob Peters
Winter Mule
Leah & Louise
Justin Hazelton
The Black Mule
formerly Merchant & Trade
Henry Schmulling
Spiced Ginger Mule
Soul Gastrolounge/Tattoo Bar
Kel Minton
Five-Spice Mule
$89.99 plus tax
Our last pick-up day has passed. Still interested in a kit? Reach out to us.