January 7, 2021
Each week, we answer your questions about food and drink in Charlotte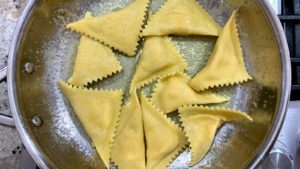 Q: Hello! I was wondering if you had any insight into some Charlotte chefs that would/could do private small dinners in homes? I'm trying to plan something COVID-friendly for my mom's 65th birthday. Welcome any recommendations!
Kristen: That's a great idea! We've heard great things about Sam Diminich of Your Farms, Your Table's private dinners — in fact, our photographer Peter Taylor said his anniversary dinner cooked in-home by Diminich was his best meal of 2020. With business being slow, however, you could likely get your favorite restaurant's executive chef to do something on a weeknight — I'd just reach out on Instagram and ask for rates. Another thing to consider is L'Ostrica's new tasting menus, which are delivered on Fridays between 3 and 5 p.m. They're four courses and come with reheating instructions. You could also consider chef Eric Ferguson, formerly executive chef at Stagioni, to cook in-home.
Q: A friend of mine purchased an old-fashioned kit and told me about it. I see they are sold out, but wanted to check if by some crazy chance you have any extras floating around or if you'll be offering these kits again soon? Would absolutely love to gift this (or something similar) to my brother for his birthday.
Kristen: We're entirely out of old-fashioned kits, but Moscow Mules are coming soon! They'll go on sale next week, with an exclusive pre-order period for paying Unpretentious Palate members. We can't wait to share the details with you! Pick up will be late January and early February, so they'll be ready for Valentine's Day gifts as well!