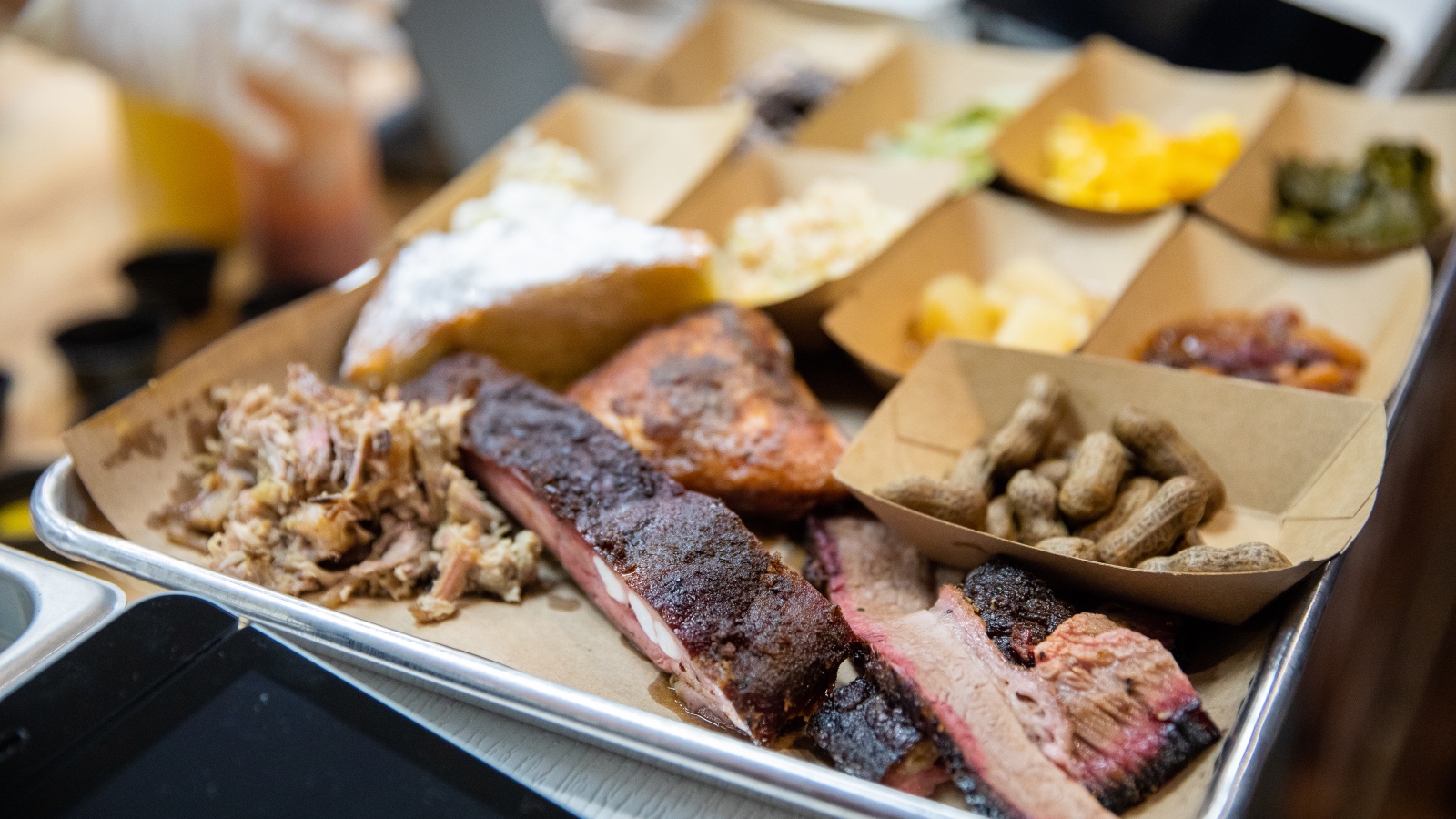 UNPRETENTIOUS REVIEW
4.5
Overall Rating
3.5
Service
4.5
Food
4.5
Vibe
The Basics
This small barbecue spot quickly gained a loyal following for its old-school cooking
In the Weeds
When Sweet Lew's BBQ opened in Belmont, we expected to hear a lot of grumbling. How can a white guy from Ohio open a barbecue restaurant in a gentrifying neighborhood? Then, the neighborhood fell in love with chef and co-owner Lewis Donald, one of the most relatable guys in the food scene, as he worked to turn an old garage into a restaurant. Next, the rest of the city fell in love with his barbecue.
The best food starts with a serious passion, and Donald's love of barbecue is clear from the moment he begins talking about it. His restaurant in the Belmont neighborhood, between Plaza Midwood and the light rail, is full of personality but far from high maintenance. Guests enter a natural-light filled space to order their barbecue along a cafeteria-style line, then take their metal trays to the dining room or patio with a detour to the sauces. The restaurant is open until sold out.
Behind the restaurant is a smoker named "The Belmont Beauty," which sees only wood, no additives to help get the smoker up to temperature faster. Named in a neighborhood contest, the Beauty does beautiful work.
It was clear from as early as our preview event at Sweet Lew's that this place was going to be something special. Subscribers' feedback on the barbecue was positive across the menu, and it felt like Charlotte had upped its stake in the North Carolina barbecue scene. The brisket has a deep smoke ring, and the tender meat doesn't even need any of the house-made barbecue sauces. And when Jon (Mr. Unpretentious Palate) wants to go to Sweet Lew's so often I get tired of red meat, the smoked chicken with some Alabama white barbecue sauce is equally as fantastic. The tartness of the sauce blends with the smoky, juicy chicken for flavorful, fulfilling bites that can hold up even against the brisket, ribs, and pork. That pork, it's also worth mentioning, is all-natural and North Carolina sourced.
It's easy to forget that Donald, not that long ago, was a fine dining chef. As the executive chef for Reid's Fine Foods, a position he held for three years, Donald oversaw the upscale marketplace's expansion into a full-scale restaurant in SouthPark, as well as catering services and a prepared foods counter. He also spent time working at luxury resort The Greenbrier, where he learned the art of barbecue under Ken Hess.
While Sweet Lew's cuisine is simple, Donald's background has put him in a position to be able to handle volume without sacrificing any part of the dining experience.  Trays of creamy, rich mac-and-cheese or collards enhanced with pork and vinegar make their way out of the kitchen to the line consistently, equally prepared each time. The sides tend to lean towards the heavier side, which can be overwhelming when you're seeking lunch that will let you sit comfortably at your desk afterwards. Even though we're supposed to be critics, we really have nothing else bad to say about Sweet Lew's BBQ.
Perhaps that's what silenced the would-be haters.  —Kristen Wile